Member Chat

Reviews
Events
Collaborations
Pro Track Assist
Free Stuff

Proshare.audio

Service and Support
Suggestions to improve proshare.audio
BUG Reports
Welcome to the chat board

New features and fixes
2020-04-27: We had some technical issues with our hosting company since yesterday. Hopefully it's solved now! In case of any problems please mail us at team@proshare.audio Thanks!


2020-03-24: Fresh Music Pool open to labels
Finally the long awaited music pool for labels is active. Since last week almost 100 labels have visited out new "Fresh Music Pool". More than 200 tracks have been listened to already.

2020-02-11: Label Pool opening soon
We are almost finished programming the interface for labels to access all Label Pool submissions from our members.

2019-11-17: Bugfix for displayed "plays"
The plays from last weeks were not counted fully in the My Music overview, this is now solved.

2019-11-06: Account/profile saving automated
Just a small thing, but all info you enter in your profile page is now auto saved when typing, so we took away all the SAVE buttons.

2019-11-02: FREE account extended
Instead of 2, you can now do 5 demo submissions per month with a free proshare account. For the real deal upgrade to PRO (25 submissions per month) or PRO PLUS (100 per month), check out https://proshare.audio/upgrade

2019-11-01: Flexible voucher redeeming
If you use a voucher to pay, and the value of your voucher is higher than your order total, then the value of the voucher will be recalculated so you can use the rest of the value later on something else.

2019-10-26: 'Like' feature in Chat Board
Yes, finally our Chat Board topics and comments have a 'Like' feature. Please use it to help the community. Your 'Like'-feedback is very valuable, it might also help proshare.audio give you better information in the future.

2019-10-25: New statistics
The stats system is upgraded and gives more accurate view of the parts of tracks that have been played by the labels. Oh, and it loads super fast now!

2019-10-19: Bulk deletion
From now on you can delete multiple tracks from your account. Just use the checkboxes in the list, and select the delete option from the pulldown under the track list.

2019-10-18: Sign up for pools
For each track you can opt-in for our DJ and Label pools. If you submit for DJ pool, all producer/dj members of proshare.audio can stream and download your track in order to play it in a set or give it a rating. When submitting for the LABEL pool, other labels can find the track also without your submission.

Pendulate by Newfangled Audio
Unleash Chaos
Introducing Pendulate, chaotic monosynth by Newfangled Audio. Pendulate uses a brand new oscillator design to produce sounds different from any other synth. It features a chaotic oscillator based on a double pendulum. What initially looks random actually contains underlying patterns of interconnectedness, constant feedback loops, repetition, self-similarity, fractals, and self-organization. When designing the Pendulate oscillator we took great care to bring out these underlying patterns. The result is an oscillator that can smoothly fade from a sine wave to total chaos, with an expanse of territory to explore in between.

https://youtu.be/KKe6Q784tLI

https://www.eventideaudio.com/promo/pendulate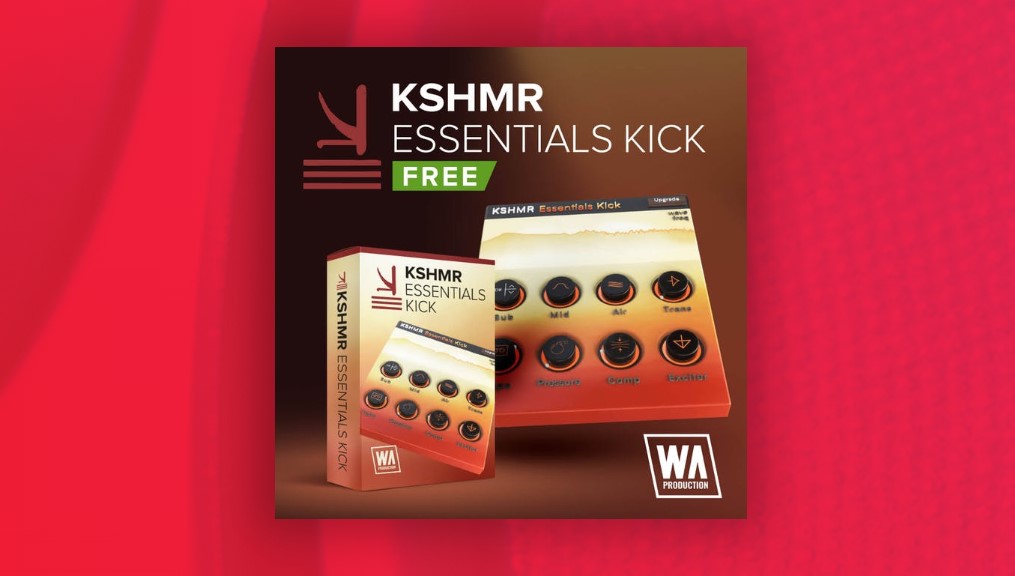 kshmr - Essentials Kick
The best sounds come from the best artists. And no one knows sound better than KSHMR and, your trusted source for EDM sounds W. A. Production.

https://www.waproduction.com/plugins/view/kshmr-essentials-kick

Polyverse - Comet (giveaway!)
This brand new plugin by Polyverse Music with an unique parameter and preset morphing function, is made to create a silky smooth reverb as never heard before. This sounds promising.... Lets check it out!

https://youtu.be/HDBpx1u3C4w

The winners of the plugin are:

Maik Kubi Kubatzki
Tusca
Jan Louise
Axolotusmusic
FabianRamos

Congratulations! Have fun with it.

Cheers,
Tom Peters
proshare.audio

Finisher NEO (ujam) - Review and Giveaway
To help you staying creative during this strange time, we have another review and giveaway on proshare.audio!

Finisher NEO, is a multipurpose effect plugin to spice up your tracks and sounds. In this review we'll test if it is easy to use, and we will do a raffle. So if you like it leave a comment below why you should win this plugin. Do this before the end of April 2020 and maybe you will be the lucky winner of your own Finisher NEO copy.

The lucky winner of the Finisher NEO is:
Frankie Ramz from Peru! https://proshare.audio/Frankie.Ramz

https://youtu.be/b76exzZZzrw

Lift FX - Review and Giveaway!
New month, new review and giveaway on proshare.audio!

https://youtu.be/2MdT6Bs-tcE

LiftFX is a brand new plugin by BOOM Library to create risers and other climax effects in seconds. Let's check it out!
To join the raffle, add a comment on our Chatboard to let us know why YOU should win this plugin before the end of October 2019!

https://www.boomlibrary.com/sound-effects/liftfx/

We have already have some happy people for this give-away:
Tusca - https://proshare.audio/tusca
Techneck - https://proshare.audio/techneck
ItachiMode - https://proshare.audio/itachimo
Harlem Dance Club - https://proshare.audio/HarlemDanceClub
Roman Lars - https://proshare.audio/245303

You can all download your copy through http://www.boomlibrary.com/cart/?add-to-cart=103023

We will be happy to share your creations!
Have fun with it!

Beatmaker Vice - Review and Giveaway!
To help you staying creative during this strange time, we have another review and giveaway on proshare.audio!

https://youtu.be/hp-IY2yvNu8

Beatmaker Vice is a drum module which contains a lot of famous sounds from the 80s. With its great samples and powerful effects it is very useful for making Synthwave to pop or even Edm songs. In this review we'll test if it is easy to use, and we will do a raffle.

To enter the raffle just leave a comment below, and tell us why you should win the Beatmaker Vice plugin! Be sure to do this before the end of may 2020!

Stan Boogie ( https://proshare.audio/262090 ) is the happy winner of the BM Vice Plugin! Thank you all for your entries, and of course big thanks to UJAM for making the giveaway possible!

Polyphenom2 - Giveaway and free preset pack!
https://youtu.be/3NPdKm-OvoQ
Polyphenom2 is a truly hybrid polyphonic Synthesizer exploring additive, wavetable, subtractive and fm synthesis and is created by OceanSwift Synthesis https://oceanswift.net/polyphenom

To show you around this synth we've created a video while making a preset pack for the PolyPhenom2 which is completely free for our members! You can download it here: https://bit.ly/2XiOVkf

As a proshare.audio member, you have the chance to WIN a free copy of the Polyphenom2 Synthesizer. Let us know why YOU should win a copy! Just give a comment below, before the end of July.

And the winners are:
- Crowd of One -> https://proshare.audio/235100
- D-Crae -> https://proshare.audio/DCrae
- мʌvʌ -> https://proshare.audio/myaudiovisualart
- Stanislaw Radomsky -> https://proshare.audio/StanislawRadomsky
Congratulations! Have fun with it!

Chat board rules
Welcome to the proshare.audio chat board!

This is the place to exchange ideas with other members. We may reward useful new topics and responses with sharing credits :)

The usage of the proshare.audio chat board means you agree to the following rules:

- We encourage thoughtful discussions, please respect others. Highly controversial topics are not allowed.
- You agree that your postings will be publicly visible
- Do not post any content for which you don't own the rights/copyright.
- Please do not post any legal or personal information, including your age (if under 18).
- Before starting a new topic, read other threads to see if you can add to one of those. Duplicates will be deleted.
- Please choose the board that best fits the subject of your post.
- Please do not use 'all capitals' in the title of your post.
- Proshare.audio always has the right to delete conversations that are not appropriate to the sole discretion of proshare.audio team members.


Offer promo to DJ's
Get your tracks distributed/promoted to DJ's, radio stations and/or playlists.